World Championship 2013 – Qualifiers
The qualifying stages proper of the World Championship 2013 are played in Sheffield from Saturday 6 April till Sunday 14 April 2013. Chen Zhe, Li Yan, Yu Delu, Zhang Andah, Liang Wenbo and Jack Lisowski will all try to get to the Crucible.
Jack, Yu Delu and Wenbo reached the final round. Wenbo lost to Mark Davis 6-10 and Yu was beat 9-10 by Mark King (heartbreak that!).
Jack beat Fergal O'Brien 10-4 in the final round and will make his Crucible debut. Well done Jack!
Round 1 – matches are best of 19
Zhang Anda 10-6 Passakorn Suwannawat
Anda lead 5-0 and 9-4 before eventually winning 10-6. But despite a few good breaks the match was a bit of a hard slog with most frames going scrappy and fragmented with nerves and tension getting at both players. But it won't matter to Anda, he's through.
Robbie Williams 6-10 Li Yan
Li made only one half century, a 52, but he won most scrappy frames with some very good safety game and it's all that matters. Robbie made the big breaks, had more table time but it didn't win him the match. This was matchplay not pretty but efficient.
Chen Zhe 7-10 Sam Baird
Sleepy fought hard – especially when he came from 5-9 down to 7-9 – but Sam was the strongest scorer, with 9 breaks over 50 including a century to clinch the match. Sleepy had 52, 54, 74 and 74 of his own but it wasn't enough.
Round 2 – matches are best of 19
Cao Yupeng 7-10 Zhang Anda
Anda trailed 4-5 after the first session and Cao was impressive with breaks of 73, 62, 100 and 99. But Anda truly dominated the second session. He had a chance to win 10-6, but Cao kept the match alive having got the two snookers he needed and cleared on the colours. Anda though immediately put this disappointment behind him as he took the last frame basically in one visit with a good 69.
Jimmy Robertson 10-2 Li Yan
Things were not looking good for Li Yan after the first session. It's fair to say that he was outplayed by Jimmy Robertson despite the fact that Jimmy wasn't scoring as heavily as he sometimes can. It didn't get any better the next day with Li only scoring 5 points – and potting just one ball- while Jimmy took the three frames he needed with 58, 63, 54 and 55.
Yu Delu 10-2 Ian Burns
Yu took a 7-0 lead over an out of sorts Ian Burns and should have made it 8-0 if it wasn't for a strange mental error: thinking he only needed the final pink to win the 8th frame he didn't care about position on the black and it's Ian who ultimately potted it to get his first frame on the board. Ian then built on that to win also the last of the first session. But that's as far as he got. Yu won the next three and finished the job in style with a 122.
Round 3 – matches are best of 19
Jack Lisowki 10-4 James Wattana
Jack won the first session by 7-2 with 128, 51, 78, 71, 64 and 69. He lead 6-0 but James managed to take the 7th, and then the 8th with 70 but he couldn't finish on a high note as Jack won the last by 70-0. Jack wasn't as impressive in the second session as he was in the first but still did enough with the help of 54 and 76 to in the last two frames. After his win he tweeted
Good win for me in the worlds against Wattana. He's class, used to be one of my favourite players when I was a kid!
Michael White 10-5 Zhang Anda
After the first session, Anda was trailing 6-3 despite scoring 99, 80 and 57 in the frames he won. Michael was just scoring even higher with a best break of 136… The second session saw much of the same. Anda fought hard from 9-3 and pulled two back but Michael was scoring and finished with classy 120.
Liang Wenbo 10-3 Jimmy Robertson
Wenbo was absolutely flying before the MSI and lead 4-0 in little more than an hour. When the match resumed he started to miss a few but Jimmy wasn't able to punish him heavily enough and Wenbo regained his form by the end of the session. He made 70,103 (his 100th competitive century) , 55, 61, 62 and 59. On the next day, Wenbo came back in a similar mood and form to finish the match with 64,76, 60 and 52.
Jamie Burnett 6-10 Yu Delu
Yu had 117, 100 and 140 – currently the highest break of the tournament – in taking a 6-3 lead into the evening session. The second session was hard fought but Yu was able to contain Jamie's comeback and finished the match with a 76.
Round 4 (final round) – matches are best of 19
Fergal O'Brien 4-10 Jack Lisowski
Fergal is a hard as nails player and had the upper hand in the first part of the match. He lead 3-1 at MSI. But Jack stepped up a gear (or was it two?) and won all five frames to end the session 6-3 up with breaks of 87, 114, 131 and 67. After the resumption, Fergal won the first frame but that was as far as he got. Jack took all next four – with another century, a 100 – to book his place at the Crucible for the first time. Well done Jack and best of luck!
Jack's post-match on youtube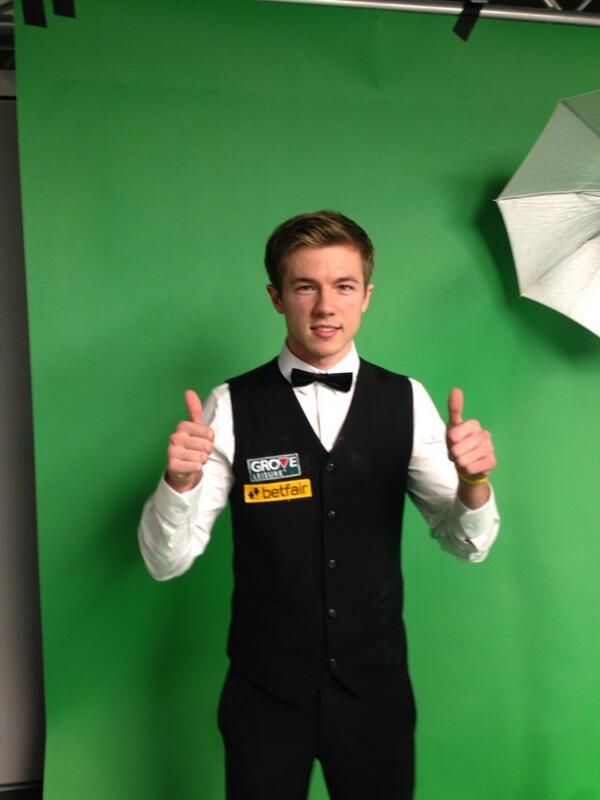 Mark Davis 10-6 Liang Wenbo
Wenbo looked good early on and went 2-1 up with 83 and 68. However, "Mavis" responded well and won the next four to lead 5-2. At that point things didn't look great for Wenbo as his opponent seemed to be in total control of the match. Crucially though, Wenbo found something and took the two last frames of the session with 67 and 57. The second session saw Mark Davis gradually take control. Wenbo started well winning frame 10 with a good 71, "Mavis" replied with a 115. Wenbo stole the next but Mavis replied again and lead 7-6 at the MSI. The atmosphere was hot and humid and both players suffered a number of kicks. Wenbo looked very frustrated at times. He fought hard but Mark Davis was the better player on the day, won the three frames he needed and finished in style with a 103.
Mark King 10-9 Yu Delu
Mark King started with a 110 and was 3-0 up but Yu fought back hard and leveled at 4-4. King though took the last of the session with a 109 tc. The second session was nip and tuck all the way. Tension was high and there were misses on both sides. Yu lead 9-8 but King is a hard nut to crack with bags of experience and eventually he prevailed.