Ronnie, Jack and Wenbo in Poland
24 September 2012
No Comment
The action
First thing for the players: press conference …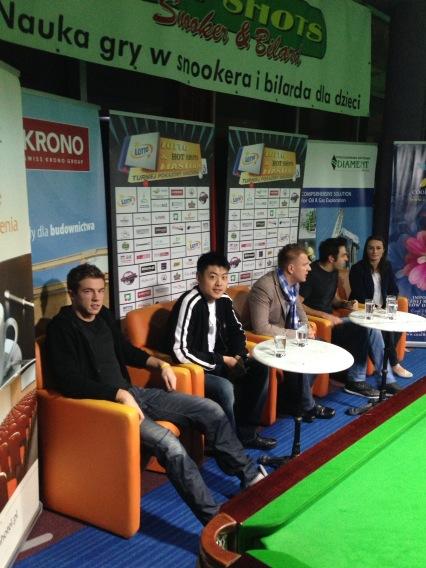 Press conference in Poland.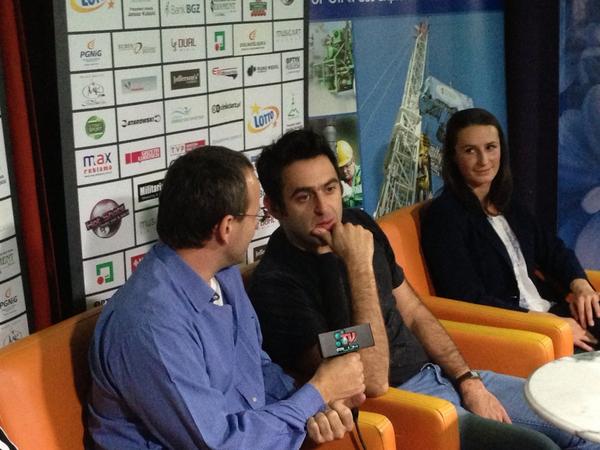 Ronnie at the press conference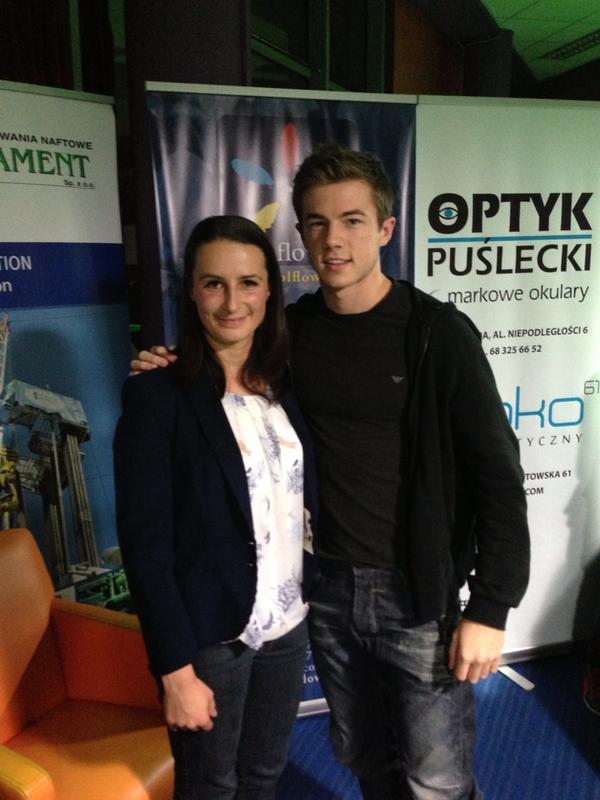 Jack with the Polish Silver medallist
The event
The event was well attended, as well over 1000 people watched Ronnie beat Ali by 2-0 in the final match of the day, with a 137 in the process. The players got a fantastic reception, from the organisers, the sponsors and the public and each of them produced some great entertaining snooker as the (long) day unfolded on the table. Big thank you to everyone involved and in particular to Marcin Nitschke, the main man behind the organisation and a great player.
Look here at the pictures taken on and off the table in Zielona Gora
Hot Shots Events' Team press release
Ronnie, Jack and Wenbo come to Poland!
Watch here Video: Ronnie and Jack announce their exhibition in Poland and Video: Ronnie vs Ali Carter promotional video

On the 10th of November in Zielona Góra's Sports&Recreation Center (Sulechowska 41 Street) an extraordinary snooker tournament will take place: the Hot Shot Masters 3.

The biggest star of this event will be four-time world champion, the most recognisable snooker player in the world – Ronnie O'Sullivan. Beside O'Sullivan competing in the tournament will be three other snooker stars – the current world vice-champion Allister Carter with the young and promising: Liang Wenbo and Jack Lisowski.

There are two main games planned in the schedule. First is a doubles mini tournament – every star will be paired with a player from Poland. Second will be a show game between O'Sullivan and Marcin Nitschke – current Polish snooker vice-champion – the mastermind behind the whole event. There will be also more one-frame show games.

Tickets for the Hot Shots tournament are now available via the ticketteam site : http://www.ticketteam.com.pl/en/home and in Empik stores. From 24th
September the tickets will be available also in Hot Shots Club in Zielona Góra (Sulechowska 27a Street).

The event is organized by Marcin Nitschke, MusicArt and Dynamicom. The tournament will be transmited by TVP Sport. The tournament websiteis www.hotshots.pl

Don't miss it!

Ticket categories and prices:

Category 1- 100 złoty (25 Euro, closest to the table)
Sectors: all the R sectors, and E2, E3, E4, A1, J2

Category 2 – 60 złoty (15 Euro)
Sectors: A2, J1, E1, E5

VIP – 350 złoty (85 Euro, the VIP ticket includes an opportunity to meet the players and a full catering service).
Sector: V

Sectors for disabled persons – 60 złoty (15 Euro, the ticket includes
wheelchair space and a seat for the guardian)
Sectors: NP A1, NP J1